There Is No Separation
There Is No Separation is a documentary portrait of a woman who has tried to live without harming the world, while remaining present to its changes. Laura Jackson has spent over 40 years cultivating 10 acres of the Bitterroot Valley in western Montana. Her life has been one of kinship with place and the slow revelations of family history. We see Laura nurturing a landscape, speaking to environmental change, and ultimately, asking questions of our shared mortality. Her story is one of crafting a life, yet perhaps never knowing home.
There Is No Separation is directed, shot and edited by Wes Kline. Damon Falke served as interviewer, story editor & writer. The film is co-produced by Wes Kline & Damon Falke. It was shot on location near Hamilton, Montana in 2022.
Gently as We Go
Gently as We Go is the story of two young people facing the uncertainties of a young romance. After a day spent hiking, Sam Hardy and Natalie Mara return late to Natalie's home for the first time in their relationship. Recognizing the possibility of intimacy, Sam and Natalie talk about their day spent in a remote landscape and hint at what might come next. While one of them is reaching, the other is letting go. Between them is the grace of a world that has already touched them.
Gently as We Go is the premier production between director Megan MacDonald and writer Damon Falke. It is also the initial installment of a trilogy of short films that follow moments in the life of Sam Hardy, as he tries to reclaim those places and people whom he has lost.
Without Them I Am Lost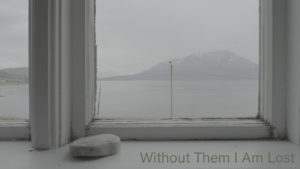 Without Them I Am Lost is the first feature length film from Square Top Theatre. The documentary is a meditation on landscape and the shape of home. It explores the influence of landscape on the imagination, the materiality of remembrance, and the ongoing search for home. The documentary is directed by Charles M Pepiton, written by Damon Falke, and features cinematography by Rebekah Wilkins-Pepiton.